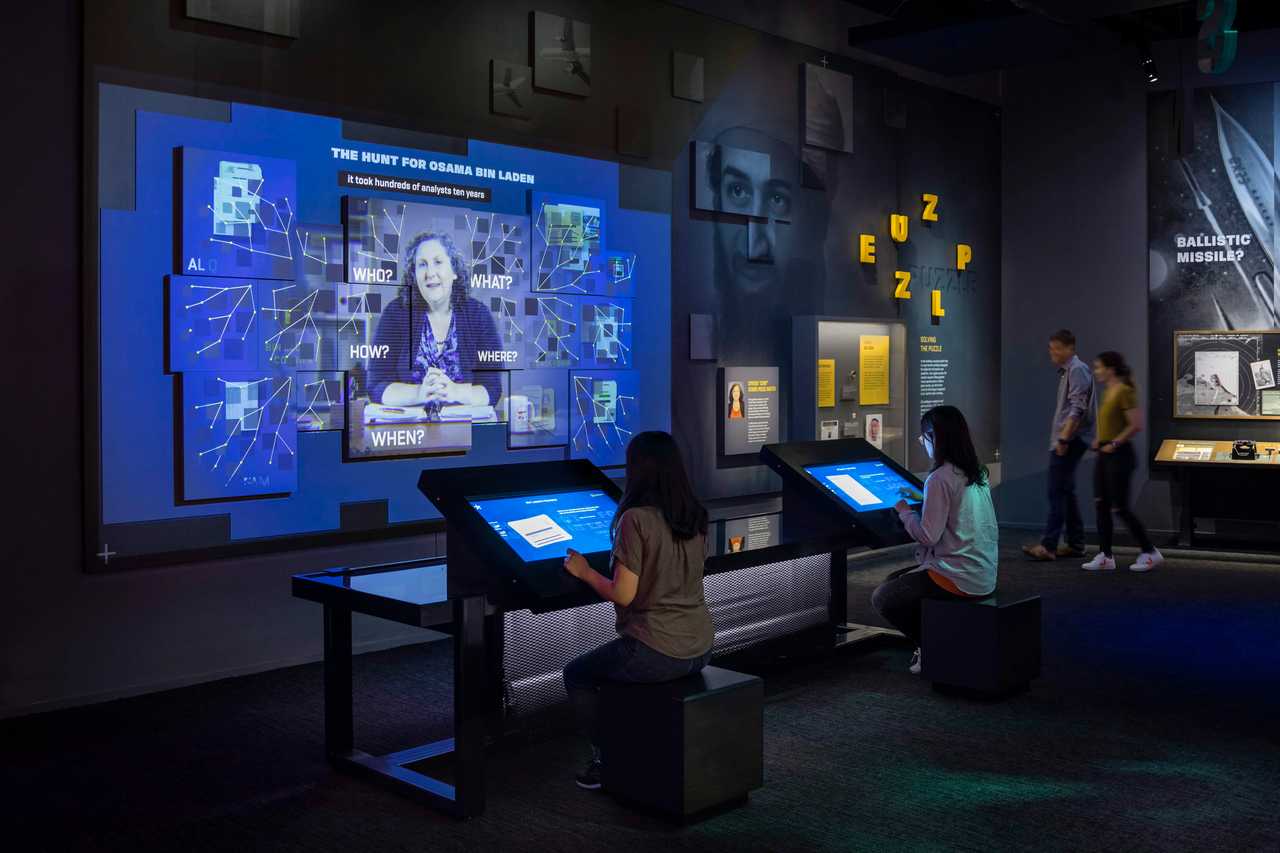 Working with a team at Gallagher & Associates, we created an immersive installation putting visitors in the shoes of CIA agents that would eventually uncover bin Laden's location in Pakistan in 2011. The installation lets multiple users work together to discover and investigate real historical intelligence in a branching narrative, collaborative 'choose-your-own-adventure' historical experience.
The Hunt for Osama bin Ladin installation is a permanent installation at the International Spy Museum in Washington D.C., and part of a gallery with content focused on post-9/11 espionage.
The International Spy Museum (SPY) opened on May 12, 2019, in Washington, DC. The completely re-imagined Museum opened in a new purpose-built 140,000-square-foot state-of-the-art building—more than doubling its original size. Working with the founder for over 20 years, G&A led the creative visioning, business strategy, and audience engagement tactics for the original Museum concept opened in 2002. After 16 years and engaging over 9 million visitors, SPY was recognized for pioneering a new breed of self-sustaining, experience-first museums. Building on that same innovative spirit, G&A designed the overall visitor experience including exhibitions, media, retail, lobby, and graphics that, again, push the boundaries of innovative storytelling and immersive design.
I worked closely with a group of developers and designers at Gallagher & Associates to bring this multi-modal and innovative experience to life. It incorporates a C++/openFrameworks front end for the projection surface and a React application running on the kiosks with a sockers server handling commands between application. I developed the development pipeline and production approach incorporating a custom parser for dynamic narrative tool Twine, authored the kiosk application and Node.js back end, consulted on the projection front end, and worked with designers and content developers to prototype and iterate on the experience design throughout the process.
The amount of data and research that went into this installation was formidable. We worked with a former CIA agent who worked on the actual leads involved to compile an enormous amount of content that then needed to be carefully considered to create a game experience that balanced historical fact with the right amount of user agency.
Due to the complexity of the source material, the creation of this experience required a highly flexible content development approach that allowed for rapid, content-driven iteration.