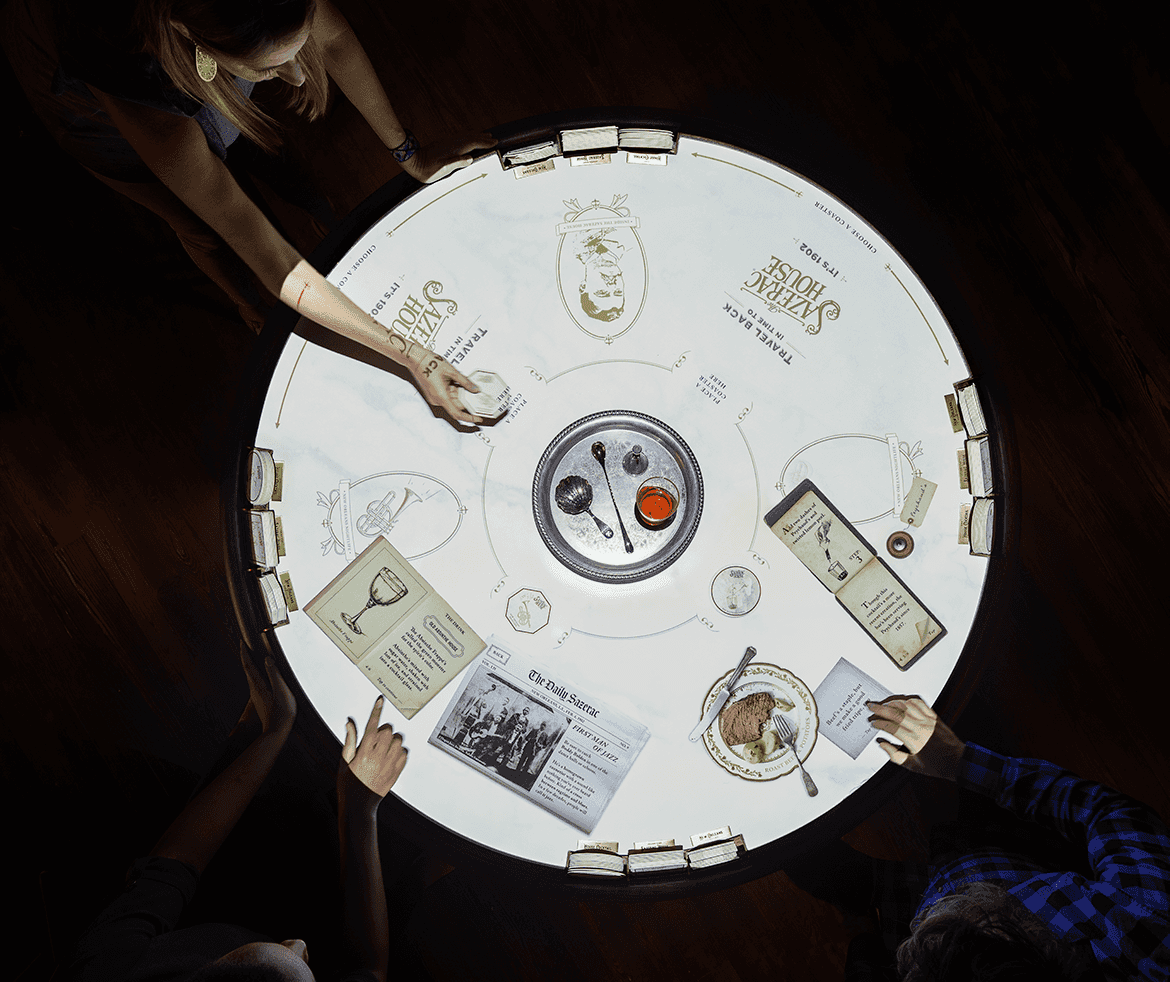 Cafe Culture is an installation built using Unity, computer vision and IR for touch detection on a tabletop used as an interactive surface. It invites users to explore the history of New Orleans through its cocktails. The app projects a collection of interactive, animated content, detecting taps and swipes on the table's surface to navigate narrative and visual content. By placing one of three coasters on the table, different 'chapters' open at four different stations around the table.
I developed the architecture and initial alpha of the front-end application in Unity, including a custom data-driven sprite animation framework, the back-end application in Python 3 with object recognition via OpenCV and the FLIR Blackfly Spinnaker camera SDK, and implemented OSC for real-time communication across the stack. The IR touch detection approach was handled using a custom UBI touch IR camera, projector, and table mount.
Cafe Culture was permanently installed at award winning brand experience Sazerac House with Gallagher & Associates:
The Sazerac House opened on October 2, 2019, in New Orleans, Louisiana. Housed in a historic building at the bustling corner of Magazine and Canal—just a short distance from the original 1850s-era Sazerac Coffee House—the new Sazerac House museum is a 20,000-square-foot multi-sensorial journey into the spirited culture of New Orleans. G&A partnered with the Sazerac Co. to create an experience that redefines what a brand, a drink, and a distillery can do when married with a historic city, a spirited culture, and an intoxicating story. G&A artfully integrates exhibit design, media and interactives with the historic architecture to trace the origins of cocktail culture back to it's birthplace in New Orleans, when the first American cocktail was invented.